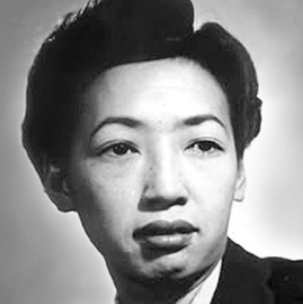 Hazel Lee
American Aviator (1912-1944)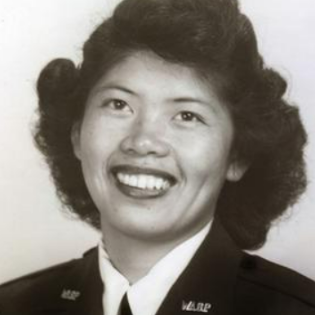 Maggie Gee
American Aviator (1923-2013)
Hazel Lee and Maggie Gee were the only two Asian American members of the Women Airforce Service Pilots (WASP) program. Though female pilots weren't permitted to serve in America's armed forces until 1974, women civilian pilots played a crucial role during World War II. WASP trained women to fly non-combat missions, including testing military aircraft, transporting planes between bases, training male bomber pilots, and hauling gunnery targets to be shot at with live ammunition.
Hazel Lee was the first Chinese American female pilot to fly for the United States military. She was assigned to the Third Ferrying Group at Romulus, Michigan, where she delivered aircraft manufactured in converted automobile factories to points of embarkation, where these aircraft were shipped to European and Pacific War fronts. Later on, Lee went on to be among the first women aviators to pilot fighter aircraft for the United States military.
Lee was born in Portland, Oregon, to first-generation Chinese Americans who had immigrated from Guangdong, China. In 1932, Lee became determined to fly after riding in an airplane at an air show. She became one of the first Chinese American women to earn a pilot's license, a remarkable feat given the limited jobs and opportunities available to Chinese American women, and emerged as a leader among the WASPs. Lee tragically died of injuries when her aircraft collided with another on Thanksgiving Day in 1944. She was 32 years old.
Gee was a Chinese American a few classes behind Lee in training who, in addition to ferrying military aircraft, co-piloted B-17 bombers to help train bomber gunners for combat.  One of six children, Gee was born in Berkeley, California. She was a third-generation Chinese American whose maternal grandparents were originally from Guangzhou.  In 1941, following the entry of the United States in World War II, Gee worked in the drafting department at the Mare Island Naval Shipyard.  Gee then trained for six months to become a WASP. 
After the war, Gee graduated from the University of California Berkeley with a degree in physics and worked at the Lawrence Livermore National Laboratory on weapon systems. She also became an active member of the Democratic party, serving on many committees and boards.
While Lee and Gee never met, they had similar upbringings. Both came of age in an era marked by significant anti-Chinese discrimination, and both defied race and gender stereotypes to become successful aviators.
In discussing Lee's love of flying, her sister Frances recalled, "She enjoyed the danger and doing something that was new to Chinese girls." Scholar Judy Yung wrote that Lee, Gee, and other Chinese-American women pilots of the time defied stereotypes of the passive Chinese woman and showed that Chinese American women could compete in a male-dominated fields. Lee and Gee are unquestionably trailblazers and inspiring role models for Chinese American women. In 2010, Lee and Gee along with all other WASP pilots received the Congressional Gold Medal.