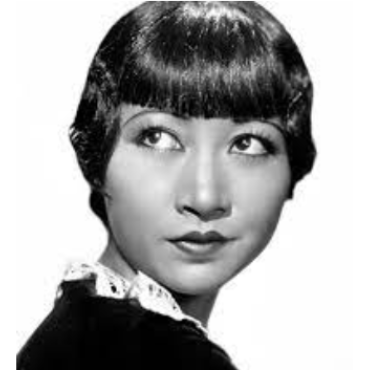 Anna May Wong
International Film Star, Fashion Icon, Television (1905 – 1961)
Anna May Wong was the first Chinese American Hollywood movie star and the first Chinese American actress to gain international recognition. Her career spanned silent film, sound film, television, stage, and radio. She resisted racism and typecasting in Hollywood as well as the practice of having white actors play the roles of Asian characters in yellowface. Wong was also a fashion icon who could be said to subvert the labels "exotic," "Oriental," and "dragon lady" through her costuming and sartorial choices.
Born in Los Angeles to second-generation Chinese American parents, Wong began acting at an early age. During the silent film era, she starred in The Toll of the Sea (1922), one of the first films made in color, and in Douglas Fairbanks's The Thief of Bagdad (1924). Finding that Hollywood only offered her stereotypical supporting roles, Wong left for Europe, where she starred in several notable plays and films, including Piccadilly (1929).
In 1935, Metro-Goldwyn-Mayer dealt Wong the severe disappointment by refusing to consider her for the Chinese character O-Lan, the leading role in the film version of Pearl S. Buck's The Good Earth. MGM instead cast Luise Rainer to play the role in yellowface. Part of this decision had to do with anti-miscegenation laws in the United States that prevented interracial marriages and even actors of different races from kissing on-screen. MGM offered Wong a supporting role of Lotus, the seductress, but Wong refused the role. She instead spent the next year touring China, visiting her family's ancestral village, studying Chinese culture, and documenting the experience on film.
In 1951, Wong made history with her television show The Gallery of Madame Liu-Tsong, the first-ever U.S. television show starring an Asian American series lead. She planned to return to film in Flower Drum Song but died of a heart attack in 1961.
Wong's journey is one of racial adversity and courage. Despite the anti-Asian sentiment of the time and the limited roles for East Asian and Chinese people in movies, Wong's pure talent resulted in her fame and her Hollywood legacy. She is recognized as a champion for greater representation of Asian Americans in film and continues to inspire actors and filmmakers today.
Wong was awarded a star on the Hollywood Walk of Fame in 1960. She also became the first Asian American to appear on U.S. currency when she was depicted on the reverse side of the quarter in the 2022 American Women quarters series.